Star of Boston
The Life of Mary Baker Eddy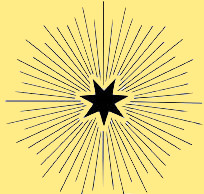 by
Helen M. Wright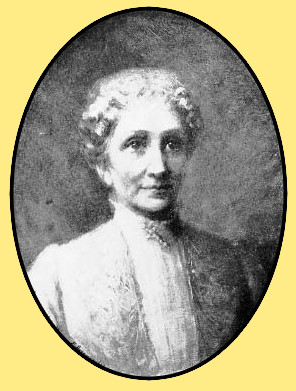 Mary Baker Eddy
Portrait by Emilie Hergenroeder
OTHER BOOKS BY HELEN M. WRIGHT
Mary Baker Eddy: A New Look
Mary Baker Eddy's Church Manual & Church
Universal & Triumphant
Mary Baker Eddy: God's Great Scientist, Vol. I
Mary Baker Eddy: God's Great Scientist, Vol. II
Mary Baker Eddy: God's Great Scientist, Vol. III
If Mary Baker Eddy's Manual Were Obeyed
America: Cradle for the Second Coming of the Christ
Mary Baker Eddy Reveals Your Divinity
Humanity's Divinity
Made Whole Through Our Marriage To God
Mary Baker Eddy, Leader Forever (44 page pamphlet)
Mary Baker Eddy, Leader Forever (112 page pamphlet)
NOTE: The author was a personal friend of Gilbert C. Carpenter. There are references throughout this book where she recounts a comment from Mr. Carpenter concerning Mary Baker Eddy or another quote. Such a reference is denoted as "A Carpenter Item."
The following abbreviations are used in this book:
S&H--Science and Health
Mis.--Miscellaneous Writings
Ret.--Retrospection and Instrospection
Pul.--Pulpit and Press
'00, '01, '02--Message for 1900, 1901, 1902
My.--First Church of Christ, Scientist and Miscellany
DCC--Divinity Course and General Collectanea
ISBN: 1-886505-21-7
Internet (HTML) Edition Copyright ©2000
Helen M. Wright Publishing, Inc.
Created in the United States of America
Acknowledgments
I am deeply grateful to my staff who have read and criticized this entire manuscript--especially to Elizabeth Zwick for her judicious, intelligent editing, and to David Keyston who was always on hand to encourage and help me over the rough spots and to get this book ready for the printer and the Internet.
Dedication
This book is dedicated to the spiritually-minded reader--you.
Contents
Part Ia - Mary Baker Eddy and the Fulfilling of Isaiah 54 3
Part Ib - Mary Baker Eddy and the Fulfilling of Isaiah 54 33
Part II - Atonement and Eucharist: the story of the Second Coming of the Christ as Revelation 66
Part III - Christ and Christmas 93
Conclusion 247
Illustrations
Other than those from Christ & Christmas in Part III.
Several pictures are from Lyman P. Powell's, Mary Baker Eddy, A Life Size Portrait, while the drawings are from Sibyl Wilbur's, The Life of Mary Baker Eddy.
Mary Baker Eddy (by Emilie Hergenroeder) Frontispiece
Earliest Known Picture of Mrs. Eddy · · vii
Mrs. Eddy Leaving Pleasant View For Her Daily Drive 2
Mrs. Eddy's Birthplace in Bow, New Hampshire As it looked when she was a child. From a chalk drawing by Rufus Baker, steel engraved · 13
The Congregational Church at Tilton, New Hampshire 18
Cottage at North Groton, New Hampshire - The home in the White Mountains to which Dr. Patterson took his wife in 1856 · · 21
Photograph of Mrs. Eddy About 1871 · · 50
The "Little House on Broad Street," Lynn, Massachusetts Where Mrs. Eddy completed the First Edition of Science and Health · · 52
The Original Mother Church Edifice with the Extension and the Christian Science Publishing House · 63
Pleasant View, Concord, New Hampshire Where Mrs. Eddy resided from 1892 until 1908 80
Mrs. Eddy's Home at Chestnut Hill, Newton, Mass. · 88
Mrs. Eddy's residence in Chestnut Hill · · 246
Mrs. Eddy as she looked about the time of her last class 255
"Never Abandon the By-Laws!" · · · 257-8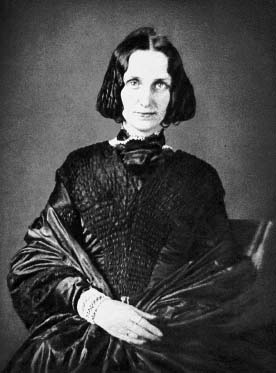 Mary Baker Eddy
This is the earliest known photograph of her, taken in the early 1850's.
Introduction
During the nineteenth century and the first decade of the twentieth century the foundations of the modern world were laid. Electricity was harnessed; automobiles and airplanes were invented; Einstein formulated the special theory of relativity. But the most significant and least recognized contribution was the mighty, crowning and triumphant discovery of Christian Science by Mary Baker Eddy, a discovery that would fulfill Bible revelation and show us that our own real Mind is God, infinite good.
Mrs. Eddy's work on earth came as divine revelation. This is brought out in her statement to James Henry Wiggin, as reported in My. 318:32. Because Mr. Wiggin had helped Mrs. Eddy, editorially, to make clearer to the man in the street some of her statements in Science and Health, she invited him to visit one of her classes. Mr. Wiggin saw things differently from Mrs. Eddy and when she began her attack on agnosticism, Mr. Wiggin could control himself no longer, and burst out with, "How do you know there ever was such a man as Christ Jesus?"
To this Mrs. Eddy made the firm reply, "I do not find my authority for Christian Science in history, but in revelation. If there had never existed such a person as the Galilean Prophet, it would make no difference to me. I should still know that God's [infinite good's] spiritual ideal is the only real man in His [infinite good's] image and likeness."
It was important to Mrs. Eddy that Christian Scientists, as well as the public in general, have a correct concept of who she was as the Discoverer and Founder of Christian Science, the one chosen to fulfill Jesus' promise and prophecy of the "Comforter," who would bring the Second Coming of the Christ, and teach all men their true identity as one with God, having "the kingdom of God within" their own consciousness as their true Mind.
Mrs. Eddy knew what she had done for mankind. To students she one day said, "As Mary Baker Eddy I am the weakest of mortals, but as the Discoverer and Founder of Christian Science, I am the bone and sinew of the world" (Emma C. Shipman Reminiscences).
Knowing this Mrs. Eddy wrote: "For the world to understand me in my true light and life, would do more for our Cause than aught else could. This I learn from the fact that the enemy tries harder to hide these two things from the world than to win any other points. Also Jesus' life and character in their first appearing were treated in like manner. And I regret to see that loyal students are not more awake to this great demand in their measures to meet the enemies' tactics."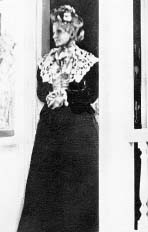 Mary Baker Eddy leaving on her drive from her home at Pleasant View.
Star of Boston book sections
Introduction | Part 1a | Part 1b | Part 2 | Part 3
Christ & Christmas Pictures
1 | 2 | 3 | 4 | 5 | 6 | 7 | 8 | 9 | 10 | 11