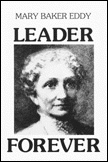 Mary Baker Eddy: Leader Forever
Over 40,000 copies of Helen Wright's popular and powerful booklet which so forcibly restores Mary Baker Eddy to her rightful status in world consciousness, have been distributed to interested readers. Now in audiobook form it reveals to the listener its important message of obedience to Mary Baker Eddy's inspired Church Manual. It illustrates how we are blessed when we obey the "mandate of Mind" in obeying those By-Laws set forth in our Leader's instructions from God contained in the Manual. 4-tape AUDIOBOOK only $12.95
Download sample sound file: (440K)
---

Humanity's Divinity
Perhaps Helen Wright's most popular book in the "God's Great Scientist Series," this was her first book made into an audiobook. With over seven hours of inspiring reading contained on six cassettes this audiobook lifts listeners to an understanding of their God-identity, their present divinity. Exploring the deep meaning and teachings of Mary Baker Eddy's incomparable textbook, it reveals what it must have been like to go through class with Mrs. Eddy herself, as several have written. 6-tape AUDIOBOOK only $19.95
Download sample sound file: (760K)
---

If Mary Baker Eddy's Manual Were Obeyed
The most comprehensive study of Mary Baker Eddy's inspired Church Manual ever done. This book has had a tremendous reception in the Christian Science community. It dispels the myths of ecclesiastical domination and control rampant during the past 80+ years following the Board of Direcotors disobedience to the Manual. 4-tape AUDIOBOOK only $15.95
Download sample sound file:(607K)
---
America: Cradle for the Second Coming of the Christ
Readers from all over the world have written to say how grateful they are for the awe-inspiring spiritual history lesson that unfolds in America. The audiotape illustrates the ethics of Truth-showing what America is, what it spiritually stands for as the outward evidence of man's individual oneness with God; that America is not just a nation bounded by oceans on the east and west. America represents the spiritual idea everywhere present. 4-tape AUDIOBOOK only $15.95
---

Mary Baker Eddy Reveals Your Divinity
Mary Baker Eddy rose entirely above the human mind, revealing man's true Mind to be God, the "kingdom of God within you," to which all good is possible. Man's true identity was thus proved to be one with God. So fierce was the opposition of old theology to her revelation and teaching that it is beyond the present sense of mortals to comprehend what it cost her to found this Truth in human consciousness. Her strength came from the conviction that the Cause was Truth's Cause, not hers; that she was sharing with humanity a vision of spiritual reality. Her "doctrine was not [hers], but His that sent [her]" (John 7:16). 6-tape AUDIOBOOK only $19.95
---

Made Whole Through Our Marriage To God
Until Mary Baker Eddy unlocked the Scriptures the Bible was a closed book. She showed us how Jesus "Made himself the Son of God" (John 19:7). This audiobook, MADE WHOLE, challenges us to do the same— to awaken to our present perfection, to discover our wholeness and begin to use our untapped resources of power.
Mrs. Eddy, in Science and Health, the "little book open," has told us Christian Science and the SENSES are at war. It is a revolutionary struggle— the struggle for perfect health, holiness, and heaven. (ISBN: 1-886505-13-6) Only $22.95
Not currently available on Amazon
---

God's Great Scientist, Vol. 1
These books show that humanity must move out of faith and belief into the spiritual understanding of its divinity. This can only be done by culturing a more spiritually scientific consciousness through an intelligent dedicated study of Mary Baker Eddy's writings--the "Comforter" promised by Jesus (John 14:16). (Vol. 1 ISBN: 1-886505-15-2. Vol. 2 ISBN: 1-886505-17-9) Only $14.95 each
---

God's Great Scientist, Vol. 2
Mary Baker Eddy: God's Great Scientist Series deals with Mrs. Eddy's early teaching and her heroic struggle to found this revolutionary Science in human consciousness--a consciousness that must be purged of human misconceptions and must be touched with the meaning of divine Love, where nothing is encased in matter (passing in or out of it), where we live in a world of Love, while walking in the paths of this world.
---